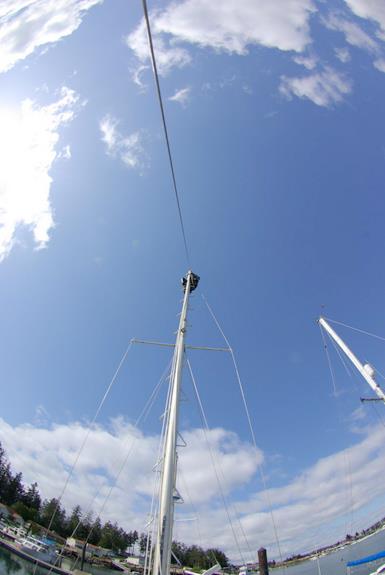 April 1st, 2010 | by Marilyn | Published in Maintenance and Repairs, Rigging
While Luke was home from university for spring break, we decided that with his help, it was time to send Van up the mast. We had some burned out light bulbs, and Van wanted to inspect the rigging up there.
Fortunately, Rainshadow has mast steps on the main, so Van could climb up rather than being hoisted up. (I hoisted him up the Dufour mast one time, and I know I cannot do that again!). Van still purchased a suitable climbing harness to ensure his safety in the event that the riveted mast steps are no longer as sound as they should be.
All in all, it was uneventful, which is just what you want when climbing a mast to 45' above the waterline. But there are some nice photos of the whole event to share.
For any other Nic 38 owners who might read this, you might be interested to know that:
– The spreader light is a PAR36 style with a G53 screw terminal base. I purchased a replacement from www.BulbConnection.com, GE #14555, which is a commercial version with a 2000 hr rated lifetime. The replacement is a 25W, 150 Lumens, wide flood (36 degree beam). Price was right at <$15 (half of which was shipping costs). Unfortunately, we need to send Van back up to the spreader to replace this bulb, and Luke's back at Uni already…
– The steaming light is a 6W festoon style, Ancor PN 529095, trade # 10576.