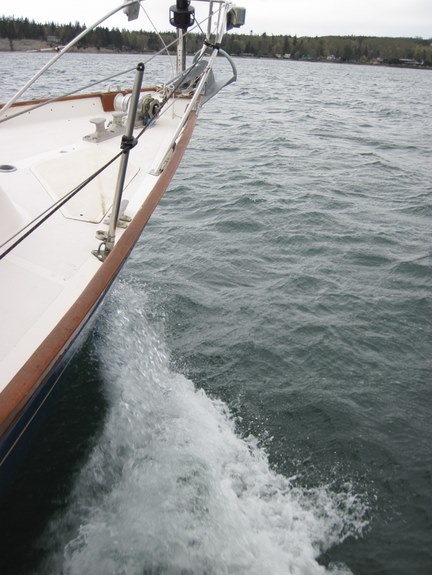 April 24th, 2011 | by Marilyn | Published in Maintenance and Repairs, Ship's Log
It's been a long cold and wet winter. Finally, the 3rd week of April has had some reasonable sailing weather – good wind and not-so-cold temperatures (mid 50's F). So we took Rainshadow out for a day sail, and had a wonderful time. Everything worked great – and we set a new speed record! We achieved 7.2 knots under sail, without the assistance of current. We were set on a lively beam reach with an excellent steady wind, sailing under full 135% furling jib and main alone. (Remember, we got new sails last fall.) The helm was reasonably balanced, and it all felt great! Van took a picture of the bow wake, and says our waterline is significantly increased due to this wake.
Now, what did we do over this long winter? Plenty – some planned, but much more planned for us by the gremlins. Here's the list:
– After the solenoid failed (and the ignition key continuing to be hard to remove), we now have a new Napa ST404 solenoid, Cole Hersee ignition switch and Cole Hersee glow plug switch. Not too impressed with that new Napa solenoid, because after just a month is intermittently sticks, which means the starter motor doesn't shut off until you turn off the battery switch. Yikes! Van moved the ignition key switch under the helm, rather than in the lazerette, so now its much easier for me to start. Oh, and he replaced the engine fuel shut-off cable too, since he discovered it was nearly worn through. He also moved this to be by the helm, and again much much easier for me to use.
– After the charging system failed and the batteries got overcharged, we replaced the entire charging system. We now have a Blue Sea Battery switch, Xantrax Alternator Regulator, Blue Sea systems automatic charging relay (battery combiner), and two brand new Trojan T-105 golf cart batteries. We also have significantly improved and labelled wiring throughout, including proper fuses and bus bars so the battery connections no longer are so scary complicated.
– We installed a new Webasto 3900 forced air diesel heater! Rainshadow used to have a different Webasto model many years ago, so the fuel tank feed lines, hot air ducting and deck fittings were already present. This made installation easier, but it was still a big job that required a lot of tinkering to get everything to fit right. On first use, we learned that the hot air ducting definitely required insulation because the aft cabin cooked, while the main cabin remained too cool. I carefully wrapped all the ducting with KFlex Insul-tube – and we have yet to test the heater but we're certain it will help a lot! I am certain that heater will be much appreciated nearly year round. Last year, even in July we were using our portable propane heater in the mornings (and bemoaning how wet propane heat is, hence we splashed out on this forced air diesel heater.)
– Van is making major SSB radio improvements, including adding a counterpoise and ground plane, and moving the tuner closer to the radio to reduce interference. The SSB is his toy – I don't keep track of the details.
– A variety of other unrelated improvements, such as: moving the Neco auto-pilot main control switch to the helm area, eliminating the need to go below to turn on the master switch; replacing the Tannoy vent in the head with a Nico solar vent (a big energy saver!); adding serious insulation and protective formica inside the fridge box in another attempt to save energy; replacing the insulation of the engine exhaust since it had mostly fallen apart; adding a bicolor LED nav light at the bow, since having deck level lights is safer than the masthead tri-color in our restricted waters. We still need to find a place to mount the new LED stern light…
– After the massive Japan earthquake, Van decided to buy some new solar panels, before they got more expensive due to manufacturing delays. He's not installed them yet, but now we have them!
– We've been doing tests to determine what is the appropriate size prop. The original design called for a 16"-12" pitch, but this results in serious thumping at around 2000 RPM (caused by cavitation and tip clearance problems). The good news is – the old Perkins 4-108 can still achieve 3600 RPM with no load (that's its rated top RPM). The bad news is – she's significantly over-prop'ed because we can only reach 2600 RPM underway. This is all useful info as we explore replacing the badly corroded prop. For who knows how many years, the shaft brush was inadequately connected to the zinc. The prop blades were pink and brittle at the purchase survey over 18 months ago. So we figure it's time to get a new prop. I promise a full report once that task is completed.
We are so anxious for the cruising season – we still have a long list of 'must-dos' before we can set sail – some nasty things like cleaning the water tank, and hauling out the propane bottles for refilling. Good thing spring is still taking its time, I guess.