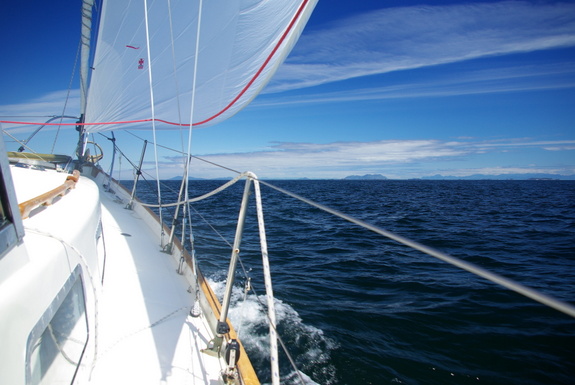 October 4th, 2015 | by Marilyn | Published in Maintenance and Repairs, Sails
In the spring of 2015, we left our land-based home in Hawaii and returned to the Pacific Northwest.
I needed to get my left hip replaced by my surgeon in Seattle, and fortunately our friends needed a house sitter during the same time. And their house is within walking distance of our moored boat. Perfect.
So while I was having my rapid recovery, Van was supposed to be working on the boat. But it's hard to leave the warmth of Hawaii and then want to spend time aboard a cold damp boat in the Pacific Northwest in the early spring. We did get several things done before we set off on our 2015 journey. And we finished up more while we were underway. Here's the list:
– Added an AIS transponder. We chose the AMEC Camino-108, as sold by Milltech Marine. We installed a Shakespeare 5215 VHF antenna on the mizzen mast, and the small GPS puck inside the covered cockpit. Wow – is this cool! Now I can see AIS targets on OpenCPN charting software on my netbook (which we use as our chart plotter). This a major safety improvement for us, not just some gee-whiz electronics.
– Completely replaced the propane system. Abandoned the dodgy propane locker and built a mount to put a 10 lb vertical aluminum bottle on the push pit rail. Bought the gas regulators, lines, etc. from Sure Marine, who are great. This new setup is a much safer system than the previous below-deck locker, which we know leaked.
– Replaced the mainsheet deck hardware, because we had a failure of the starboard padeye near the end of last season due to crevice corrosion. We installed larger backing plates and bolted on the Seldon Padeye – diameter 60 mm.
– Replaced the acrylic in both the forward and main hatch. The existing ones were badly crazed and leaking.
– Refinished the teak interior combings on the hatches. Added an extra layer of plywood underneath so there is a small standoff of the decorative part. Then I made screens with bungee cord that sit in that standoff to hold the screen in place. Picture would be nice, eh? I don't have one.
– Bought a used hank-on jib from Minney's, who were very helpful at ensuring we had a sail that met our needs and was in the condition they promised. We bought the used sail to learn what size roller furling working jib we should buy for offshore work. The used sail is made from tanbark 10 oz. dacron fabric and is well-built. Once we have our new working jib (which we did place an order for at the end of the season), we can use this tanbark jib in a double-headsail setup.
– Added a vacuum gauge with a drag pointer after the primary fuel filter so we can tell when the primary fuel filter needs replacing. Used a Racor RK11 gauge, similar to this one.
– Added a 12v outlet to the v-berth. Also bought a car seat heated cushion set, with the hope that when we need to dry out the bed, this might be helpful. We did use it some when we had long hours of motoring. It helped, I think.
– The solar vent fan in the head failed overwinter in 2014/15. We tried replacing the motor with a third-party supposedly compatible one (Nico doesn't sell one), but the new motor has a very low flow rate. In the end, moved the Tannoy vent from the aft-head (which is now a wet locker) to the head for the sailing season. In the winter, we replaced this power-hog 12v powered Tannoy with a muffin fan and are using an old solar panel to drive it. This is another problem will have to solve before the 2016 season. Those Nico solar vents don't have much longevity.
– Replaced our  diaphragm maintenance bilge pump with a Rule Mate II -750 pump. We did this because the diaphragm pump requires a pre-filter, which can clog easily. If the prefilter is clogged, and the level switch turns on the pump, the pump would run forever without lowering the water level – and kill the batteries. This would be bad news if it happened while we were away from the boat.
– Added a 3-way valve to our dedicated fuel polisher, so we can use the fuel polisher pump to suck diesel from the jerry cans, through the Racor fuel filter, and into the tank. Much better than attempting to pour fuel through a funnel into the fuel deck-fill.
– Added a computer monitor at the Nav station, which we can use as a second monitor from one of our laptops or tablets. It's nice for watching movies when we're stuck in an anchorage due to bad weather.
– And finally, we started constructing our drogue, which meant a lot of fabric cutting and sewing. This project deserves a post of its own, once it's done.
Now, let's see if I can find some photos of some of these nice improvements…. The answer is, I couldn't find any, so instead the above photo shows us sailing to weather in SE Alaska, using our hank-on drifter. Maybe later I will take some photos of these nifty improvements.