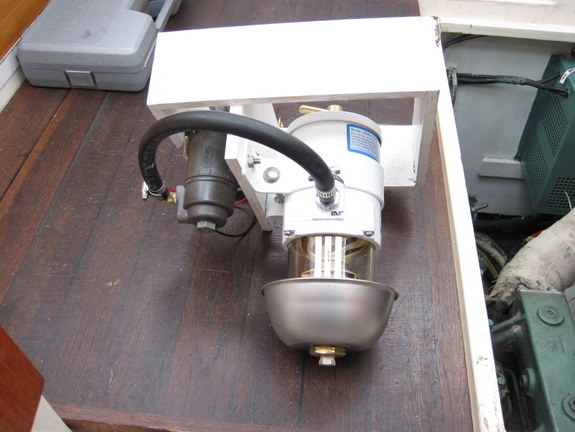 June 7th, 2010 | by Marilyn | Published in Upgrades
A few months ago, we had our fuel tank professionally cleaned. We vowed to keep the fuel clean so we are not stranded by our trusty Perkins when we need it most.
So we decided to add a fuel polisher. We studied what's available as a pre-built system, and then decided to make our own because it really doesn't need to be so complicated – especially for a sailboat with low fuel needs. Here's what we settled on:
– We designed a dedicated loop so we do not mess up the current Perkins 4-108 fuel delivery system – the Perkins manual cautions not to add filters in addition to the primary and secondary. That meant we needed to buy both a pump and filter, and add dedicated fuel lines.
– Racor offers the FPM-050 fuel polisher that is actually just a very low flow rate (and very low power) pump that can be left running constantly for fuel polishing. This is a nice idea, but the price is not cheap for just a pump and some valves ($~500). Since we frequently visit our boat, we could run the polishing pump for a few hours as needed and not worry about the power requirements.
– So we bought a Walbro FRB-13 fuel pump. Price is nice (~$100), power consumption is reasonable, it can run on a continuous duty cycle and it has the lift needed to get the fuel out of the tank. One caveat, this is not a quiet pump while operating, so we won't be running the polisher while we're trying to relax on the boat!
– For the filter, we chose the Racor 500MA turbine filter. Its max flow rate matches the pump nicely. This added a ~$200 to the price of our home-grown polisher (over simply using our existing Racor primary filter) but we figured the redundancy is worth it. Our primary is the discontinued Racor 200FG and I'm not sure of its specs.
– To monitor the health of our polishing filter (and potentially learn that we have some bad stuff going on in the tank), we purchased the Filter Minder from FuelFixers.com. Others, including Racor, sell this same filter minder unit but Fuel Fixers had the best price and their service was excellent. We figured the awareness of when to change the filter is worth it since there is no other way to tell how the flow rate is changing.
– To connect it all together, we chose Trident Barrier Marine A-1 fuel hose with a 3/8" ID. We also picked up the required brass gas fittings from our local Henery's hardware.
– Earlier we had dedicated fittings and tubes added to the fuel tank cover so we can pull from the bottom of the tank, and return rather low so the diesel doesn't froth.
– We built a wooden frame for mounting the parts, and then suspended it in the engine room under the helm in a mostly unusable space. It's designed so we can move it out of the way if doing major engine work, and drop it down if we need to change the filter. We left extra long hose on the return line so we could swap the polishing filter into the engine fuel delivery loop in the event the primary filter becomes unusable.
That's it. For around $500 (including cost to have professionals add the fittings to the fuel tank cover) we have a dedicated fuel polish loop. Hopefully we'll never need professional cleaning again and our Perkins will run smoothly forever.
We intend to use biocide on a regular basis, and then run the fuel polisher for sufficient time to turn the fuel tank contents a few times every week.
I have to say, this is one of the most visually unsatisfying boat projects we've done to date. If everything is going well there is nothing to see, and you simply listen to the Walbro pump for a few hours occasionally. You just have to believe its working. I suppose if/when the filter clogs, we'll have the satisfaction of knowing the gunk was taken out before it could do any harm to the engine – and that could make the price tag look very cheap!