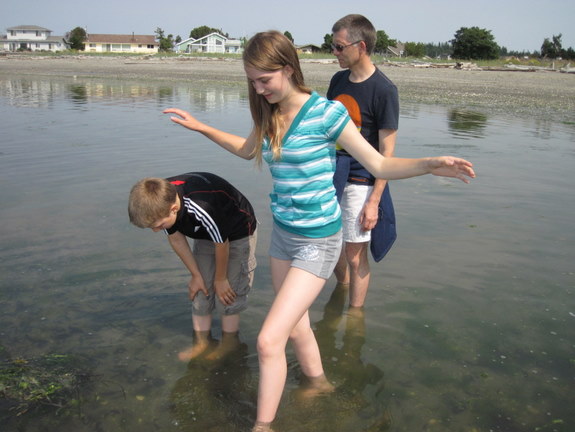 August 7th, 2010 | by Marilyn | Published in Ship's Log
Our dear friends from the UK have arrived to join us for summer fun during the month of August. Too bad the weather is a bit grey and dodgy, but maybe it will improve.
Jon, Lianne, Chris and Max started the morning with a walk on the beach, including doing a few silly walks through the shallow water (see photo above). A little weather system moved through in the afternoon, making for some decent winds. They eagerly agreed to go for their first sail, despite their jetlag. So, sort of a split-second decision, we rushed off to the boat. Van gave the boys a speedy lesson in deckhand & mechanic tasks, while I taught the girls the navigator & helmsman tasks. We cast off, and then settling on the jib rather than genoa because the winds were piping up and the seas were a bit rough, with dark clouds on the horizon and flash flood warnings on the weather radio for areas away to our south. Weather looked tolerable for our area, so the jib went up, Max raised the mainsail, then Van and Jon set the mizzen.
Everyone did great for their first run, though it was a short sail (only about 2 hours) just across the Hood Canal and back, basically. As we crossed, we dodged a few navy cargo boats that were returning to Keyport (they usually accompany the submarines transiting the waters, but there was no sub in sight, both fortunately for our navigation freedom and unfortunately because I'm sure everyone would have enjoyed seeing one of those massive things from outside the enforced 1000′ buffer zone).
Rough seas, empty bellies and jetlag meant is was best to keep it short. But everyone had a great time, both Chris and Max took a turn at the helm and each did a wonderful first job.
Today, we're taking them back to the boat for further lessons on the systems and tasks. If they intend to be crew for a San Juans trip, casual lounging about the boat while Van and I do all the work is just not on! By the end of their stay, they'll either be proper sailors, or landlubbers. We'll find out which in the coming weeks.