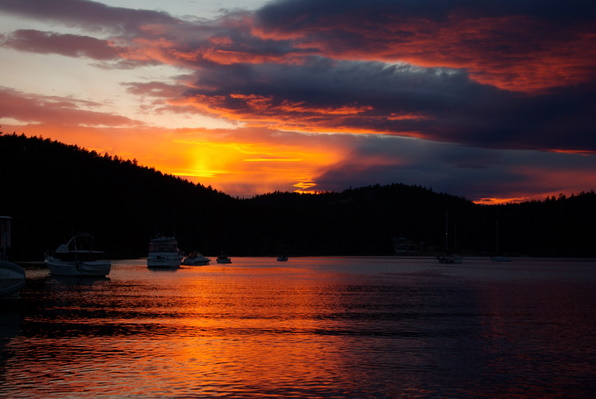 August 28th, 2010 | by Marilyn | Published in Ship's Log | 1 Comment
My last posting ended with a question – will our guest crew turn out to be lubberly or salty? After nearly a week in the San Juans, the answer is – Jonathan, Lianne, Chris and Max all get high marks as sailors!
Even before the trip began, Captain Van put the children to work scrubbing the deck. Max proudly came home that day and said "I got to scrub the deck today". Now that's the kind of attitude you want from a deckhand! Not "had to" but "got to" scrub the deck. Both Chris and Max did a great job and Rainshadow was ready for the crewed journey.
On Tuesday August 17th, Van and I sailed the boat to Griffin Bay (San Juan Island) alone. It was a long journey with heavy winds at times and rough seas, so we were glad we didn't have our newbie crew onboard. At Partridge Point, just off Whidbey Island, the winds died but there were huge waves just outside the reef. Van went forward to drop the Genoa as I tried to motor out of the turbulence. The bow was leaping through the 4-5' waves. Van said he actually went airborne on one of those leaps, so after that he grasped the lifelines to force his feet down onto the deck. After a few scary (and exhilarating) minutes of wild bow riding, he found enough breaks between waves to lash the sail to the lifelines and make his way back to the protection of the cockpit. Note to self – we must rig those jacklines!!
On Wednesday, we picked up our crew at Friday Harbor and sailed north through San Juan channel. They had listened carefully to all our teachings through the week prior, so when Van said 'let's raise the mainsail', our deckhands knew what that meant. There was a nice wind, so we headed for Sucia. As we made our way up Presidents Channel with Chris at the helm on a nice far reach, we actually hit a speed record of 6.7 knots! Unfortunately, the anchorage that night in Echo Bay was very rough – a south wind pointed us broadside to the SE swells that came into the bay, so we were rolled side-to-side all night. Our guests didn't know better, this being their first night on a sailboat, but Van and I had a horrible night sleep. Our attempt at a riding sail failed because the mizzen flogged too much, and the stern anchor Van rowed out around 2AM didn't hold – so we just gave up and slept through it due to exhaustion.
On Thursday, the winds were not so great, so we drifted around and made our way into Shallow Bay on the other side of Sucia, which offered much greater protection and a calm nights sleep. We needed it. Max went swimming this evening – indeed, Chris pitched him overboard as they took the dinghy to shore. He was a willing participant, so everyone had a good laugh as he shriek about the cold.
On Friday, Max and Chris had some success with early morning fishing. They pulled up some beautiful fish. And this time, Jon pitched Max out of the dinghy for his swim. In the afternoon, we set sail for Stuart Island against the current. That didn't work so well in the light afternoon winds. Also, there was a cluster of whale watching boats, and Van did see a whale fin so we drifted for a while looking for them to surface again. And that's how we lost all our headways and ended up back at Sucia for a 3rd night. Good thing its a nice place.
On Saturday, we set alarms so we could set off by 8AM and have the current drive us to Stuart Island. The plan worked, the wind was good, and we were at Prevost Harbor by noon. We did see a Minke whale enroute, this time it just appeared in front of us without the bothersome whale watching boats all around it. Also by this day, Max was deemed 'Senior Deckhand' (while his dad was 'Jr Deckhand'), and both were proving to be extremely useful to Van. Likewise, I was enjoying issuing commands to my cockpit crew of Chris and Lianne  – both Van and I were definitely liking this crewed boat idea.
On Sunday, we headed down Haro Strait looking for more whales, until the current drove us back. We ended up motoring through Spieden channel, and catching a mooring ball at the S end of Jones Island for an afternoon frolic on land. Both Max and Lianne were brave enough to swim – the Dutch are tough! Late in the afternoon, we set sail in a fresh breeze on a nice beam reach, and went screaming down San Juan channel, this time reaching 6.5 knots. We sailed to Turn Island in the nice wind, then headed back up to Parks Bay for a calm last night at anchor.
On Monday, we sadly dropped our crew at Friday Harbor, and then Van and I sailed home alone. It was light wind, but enough to fly the Gennaker. We achieved 4.5 knots on a beam reach, which was pretty good for such light air – and the best luck we had flying the Gennaker so far. But by the end, we had motored more than 1/2 the time because there was just not enough wind and the currents were going to oppose us before we made the long journey home. We actually motored through the PT canal with 3 knots current against us. We saw a submarine south of Marrowstone (though we got rather close, they didn't hail us on the radio to warn about security enforcement, for some reason).  We docked at home about 8:15PM, leaving just enough time to tidy up before dark. Our boat crew had turned into land crew, and had prepared a lovely meal for us by the time we walked in the house door.
So, this is the last cruise on our old sails. After 35 years of service, we figured they've paid their dues (not to mention they are completely blown). Since we hit some speed records on this trip, we're very keen to see what she can do with a new set of skirts. But we're sad our crew has returned to their home, and we look forward to the day they come back – or maybe we should sail to them? 8~)