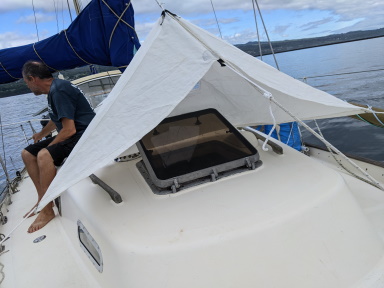 March 13th, 2023 | by Marilyn | Published in Maintenance and Repairs, Ship's Log
Rainshadow has undergone a refit while moored in our current Hawaii homeport. But Hilo is where wind goes to die so it's past time for Rainshadow to have a new homeport, which means another passage.
After our last passage in 2016, I wrote about all the things that broke during that rough 4 weeks at sea. I recently updated that posting with how we addressed those failures since making Hilo our homeport. We have fixed all those things – and more. Much more.
Here's the list of the major improvements that weren't directly associated with that passage and so already mentioned in earlier posting.
Sailing and steering gear
— Rigging: We improved the running and standing rigging. For example, we bought new jib and main sheets. We replaced the mainsheet blocks. We added a Garhauer rigid boom vang. We rebuilt the primary winches. Wherever required, we replaced blocks and added fairleads. We replaced the forestay since it we installed it with the new furler in 2010. On inspection, the older one looked great but we replaced it anyway.
— Sails: We bought a new cruising chute and retired our old spinnaker. We thoroughly inspected and cleaned our existing sail inventory. We made new sail main and mizzen covers to better protect the sails from the intense tropical sunshine.
— Drogue: We completed our Jordan Series Drogue, made a custom deployment bag for it, and before departure will install our custom drogue chainplates on the topsides near the stern.
Deck and cockpit
— We replaced the lifelines because they outdate our ownership. Lower is still 1×19 wire. Upper is dynema.
— We worked to rebed everything that penetrates the deck because the original sealant is failing, subjecting the old stainless steel fasteners to the crevice corrosion. We replaced all fasteners as we went.
Some rebedded items brought surprises, such as the bollard and windless had a rotting plywood backing plate. As a result, we significantly reinforced the foredeck with fiberglass beams spanning athwartship, and new fiberglass backing plates. We also epoxied on a fiberglass pedestal under the windless so it is slightly raised above the deck, similar to how all C&N installed deck attachments are installed. This keeps flooding water away from the windless-to-deck seal.
Some fasteners did show the classic pits indicative of crevice corrosion, so we are glad we made the effort. We feel much better any time the chain plates, cleats or winches are taking a heavy load. However, at the time of this writing, a few things did not yet get rebedded, such as the mizzen mast step, car rails, stem fitting, stanchions and some of the deck handholds (though several are done). We keep a good running tally of what's been done and what's left to do – so eventually we will get there.
Electrical and charging
— Wiring: We improved the electrical wiring to decrease voltage losses in critical wire runs. For example, we rewired the fridge compressor to its own dedicated switch, rather than through the house circuit panel. We also rerouted the solar panel wires to be shorter runs, and replaced the top shelf of the aft cabin bookcase with solar controllers and other control panels. We added busbars and fuses as needed to ensure improvements follow ABYC electrical standards. We added a Low Voltage Disconnect so the house batteries cannot be destroyed by, for example, stupid bilge pump switches that want to make a bilge pump cycle forever. Been there, have you?
— Charging: We replaced our alternator regulator with a Balmar regulator MC-618. We added a Merlin SmartGauge to better understand the battery state of charge.
— We replaced our old golf cart batteries with 4 Firefly carbon foam batteries. That's a huge house battery bank. Before departure, we'll install a new starter battery because the current Interstate is 12 years old now, albeit doing fine.
Electronics and devices
— Navigation: We replaced our trusty ancient laptop running OpenCPN with a B&G Zeus2 multi-function display (MFD). As a backup navigation system, we still have a dedicated boat computer at the nav station that runs OpenCPN.
We added a Maretron Gyro SSC300 compass to provide heading, pitch and yaw data.
We replaced the ancient DataMarine wind cups with a Le Capteurs CV7 Ultrasonic wind sensor.
— Networking: We added NMEA 2000 backbone. To improve communication between the NMEA 0183 devices and NMEA 2000 backbone, we added a Shipmodul Miniplex-3 Multiplexer. This also supplying all network traffic to our backup computer running OpenCPN, which only consumes NMEA 0183 data.
— Radar: We replaced the ancient radar with B&G 3G Radar, which interfaces to the Zeus2 MFD and allows us to overlay the radar image on a chart that can also show AIS targets. Conveniently, our OpenCPN backup can also see the AIS information over the local WIFI and NMEA 2000 network we installed.
— Autopilot: When the original Neco autopilot finally failed, we installed under the aft berth an Octopus SD-10 drive unit with Rudder Feedback Module (RFM). This is attached to its own tiller stub on the rudder post, so if the main Mathway steering gear fails, we have a steering backup besides the emergency tiller. The drive unit is controlled by a B&G NAC-2 controller, which interfaces to B&G Zeus2 MFD. All this means we now have a modern, low power consumption autopilot setup that can easily steer the boat according to compass direction, wind direction or route navigation.
Engine and helm steering
— Starter: After the original Lucas starter failed, we replaced it with IMI 303, as recommended by the local starter and alternator expert. This same expert helped us repair our alternator when it had a short, which we fixed so it did not need replacing after apparent failure.
— Steering: We noticed backlash in the helm, which was not present in the newly installed autopilot that has its own tiller arm attached to the rudder post. As shared on the Nicholson38.org forum, we removed the gearbox for inspection and a thorough oil change, and replaced the ball joints in the tiller arm. Then we discovered the backlash was caused by the shaft key slipping in the keyway at the rudder post connector. After pounding that back into place (and better securing it), the backlash is gone. This should make a significant improvement in the Monitor Windvane performance as well.
Ground tackle
— Rode: We bought new chain rode (220′ G43 5/16″) for the main anchor, new double Brait rope rode and used the best parts of the original chain as the backup anchor pendant.
— Windlass: After the windless motor failed, we installed an OEM replacement motor and control box. This also lead to a good inspection and maintenance of the windless. We installed a helm switch so the handheld remote is not required for cockpit operation.
Cabin, comfort and safety
Berths: replaced the v-berth and aft berth cushions to make for more comfortable sleeping.
Cabins: Replaced the portlight curtains. Replaced the aft cabin seat cushion. Varnished insides and undersides of cabinetry that had never been varnished, which protects from mildew growth. For every seat locker that only had a finger hole to lift off the cover, added string pulls to reduce the risk of breaking a finger in pitching seas.
— Galley: replaced original cooker with a Dickenson Caribbean 2-burner, which is a vast improvement in cooking tools and propane safety.
— Comfort: Added new cabin fan on starboard side. Made new cockpit seat cushions. Made hatch covers that act as wind scoops and rain protection for the forward and main cabin hatches.
— Safety: In the cockpit, main cabin and aft cabin, we revarnished the removable floorboards using a non-skid sand texture that greatly improves traction once the floor is wet. Added extra handholds in cockpit. Added red lights in cockpit, galley and head.
General Maintenance
It never ends. We kept up on all maintenance while in Hilo. Rainshadow seems to be ready to do some serious passage sailing again.