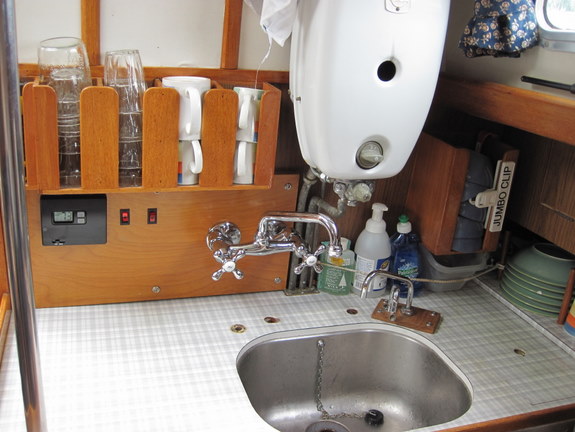 July 20th, 2011 | by Marilyn | Published in Repairs
Fresh water has been a problem for us so far. The built-in fiberglass tank was badly affected by venting blisters, and as of last summer, we weren't content to drink water from it any more. We tried using Sanitred to fix it, which was a complete disaster!!  Never ever use Sanitred products on your boat!!!
I eventually stumbled into Seattle Tarp, which supplied us a custom built flexible water tank, designed to fit snuggly inside the existing fiberglass tank. Deano at Seattle Tarp made the purchase process rather easy, and in short order we had a custom bladder built to our dimensions that costs less than the off-the-shelf flexible pillow bladders that other manufacturers make. We have high hopes that this will work to provide us water we are comfortable drinking (after passing through a Brita filter).
We finally replaced the galley faucet that was hard for me to turn on/off, and it leaked. Van saw a photo of another Nic 38 that had a wall mounted faucet, which we thought was pretty clever. So we added a wall mounted faucet too and now we have more surface space around the sink, and a faucet that is mounted high enough to get larger things under it. We also have some holes to repair in the galley top surface where the former counter mounted faucet was located – but that plaid formica has to go someday…
We replaced the Jabsco accumulator tank (again). The first new one had a hole in the bladder, so it never acted correctly as an accumulator. Thanks to West Marine's generous return policy, we exchanged the defective accumulator after 11 months for a new one that works properly.
We replaced the quick connect fitting on the existing ShurFlo water pump. It obviously had been leaking for a while because someone (not us) tried to seal the hose connection with some goop after the cheap nylon had been squeezed out of shape with a hose clamp. We found it easier to just buy the $2.50 replacement connector and use the properly sized hose.
So now we have a fresh water system that holds pressure and supplies potable water. What a treat!
In another effort to conserve fresh water, we turned the foot pump into a saltwater supply rather than fresh water supply. During our recent haulout, we cleaned up the Blakes seacock in the aft cabin bilge, which was formerly used for the aft toilet inlet but for 20+ years had been plugged. We then used 5/8" Trident Series 147 hose to plumb the Blakes seacock to the Whale Gusher Mark III foot pump that was already in the galley. To avoid having the Gusher pump be the only thing holding back the ingress of water in the entirely below-the-waterline plumbing, we looped the hose above the waterline in the galley locker outboard of the sink, and added a cheap PVC ball valve that allows us to easily shut off the supply, without having to go to the aft cabin and open the bilge to shut off the proper seacock.
All of these are nice improvements to the galley and water situation. Hopefully we will continue to have a positive attitude about having a flexible plastic/fabric fresh water tank. I guess that is mostly up to us and how diligent we are about keeping it clean. Anyone interested in learning more about this Seattle Tarp water tank, go trough the steps to post a comment on this page, and I will reply privately via your email address.